Got Scrap Metal? We've Got a Container
November 30, 2021
When your company is in the midst of a construction project, we'd bet there's a lot of material that is simply scrapped. What do you do with it? At Okon Recycling Recycling, located in Dallas, Texas, we have a solution for you, Scrap Metal Containers! While your construction project is worked to completion, simply throw your scrap metals into Scrap Metal Containers Dallas. But other than having a place to put your scraps, what are some extra benefits to utilizing a scrap metal container? 
The Work Is Done for You
If you are working with us at Okon Recycling, once the scrap metal container is full simply call us up. We will come to your project site and take the container for the scrap metal to be recycled. This will save you time and money. You will not have to locate and hire workers and equipment to remove the scrap and take it to a recycling center yourself. 
Designated Dropping Spot
As scraps are created during a project, they often just get thrown to the side. At first it's not that big of a deal. However, as time goes on, the small pile will probably turn into some sort of scrap mountain. This means it is taking the place of space that could be used more productively. By utilizing a Scrap Metal Container Dallas you are keeping scrap metal contained and out of the way.
Earns You Money
At Okon Recycling we accept both ferrous and non-ferrous metals. We are not a middle man, so our clients keep 100% of the scrap proceeds and deal directly with us for service. Non-ferrous metals are usually more commonly found in businesses or commercial properties, so likely the type of scrap metal that would be put into your scrap metal container. Non-ferrous metals usually receive a higher price.
Environmentally Friendly
It is incredibly important that your scrap metal is recycled and disposed of properly. Scrap metal that has been disposed of improperly can be very harmful to the environment. When recycled properly, the scraps can be reused, thus resulting in fewer emissions that come with new production.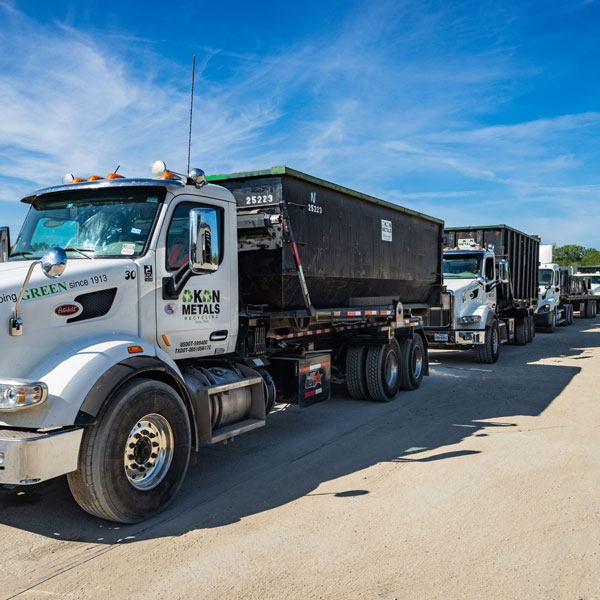 When you choose Okon Recycling to be your company's recycling service provider, you are not only getting great service, you are getting a trusted recycling partner with over 100 years of commercial metal recycling expertise. We will first evaluate and understand your process and workflow, then we will design an innovative and customized recycling program to optimize the value of your scrap while decreasing your handling costs.
Okon Recycling can provide you with a custom quote for your commercial recycling and Scrap Metal Container Dallas service needs. We look forward to working with you soon!